About Principles & Choices
Principles & Choices is an acclaimed respect-life philosophy curriculum that helps students master ten principles of logic, ethics, and justice that inspire them to live with purpose, moral integrity, and care for human life.
Numerous studies have documented the degree to which students are influenced by anti-life attitudes prevalent in today's popular culture. Many faith-based schools make an effort to counter this by emphasizing human dignity and including pro-life perspectives at various places in the curriculum. However, these efforts typically lack depth and cohesiveness. In contrast, Principles & Choices offers a focused, in-depth, systematic study of these issues and helps engender a lasting change of heart and mind.
Curriculum Design
The Principles & Choices program grew out of 20 years of research and practical experience that identified successful pedagogical methods to bring about an enduring change of convictions on the life issues. The program gives students a strong philosophical education in ten core principles that ground Church teachings on respect for human life, social justice, and many other contemporary issues.
Principles & Choices is designed for maximum flexibility. It can be taught in classrooms as a supplemental unit for a core curriculum subject such as philosophy, religion, social studies, or health. Yet it's also adaptable for campus ministry programs, church youth groups, and even adult religious education.
This supplemental curriculum can be taught as a four-week unit in each grade level, or shortened to fit available classroom time. Alternatively the learning can be extended over an entire semester by teaching one chapter on a particular day each week, or all the books can be combined and taught as its own course.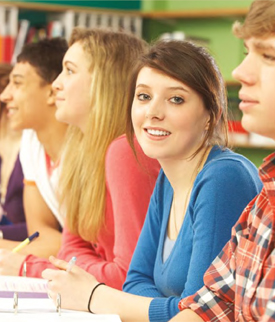 Key features of Principles & Choices:
Three-volume workbook series features convenient Student Quick Code references throughout to provide students with related media and study resources. (Click here for details on each book, including Table of Contents, and sample implementation plans.)
Book 1 Identity and Values covers the four levels of happiness and their application to our notions of success, quality of life, and love. These are foundational concepts for the content presented in Books 2 and 3.
Book 2 Truth and Reason covers three principles of logic and objective thinking and applies them to the definition of the human being.
Book 3 Ethics and Justice covers three principles of ethics and three principles of justice and applies them to real-life social justice issues.
Comprehensive teacher manuals  include complete learning plans, pacing guides, guiding questions, lecture notes, assessment evidence, and downloadable assignments, handouts, and exams. Teacher manuals also feature:
PowerPoint presentations for each chapter
One act of the "Robert & Emma" drama audio on CD
Cross-references to Scripture and the Catechism
Cross-references to the USCCB Doctrinal Elements of a Curriculum Framework
Cross-references to most major high school religion textbooks
Complimentary links to internet resources and social media.
A variety of companion resources are available to enhance the classroom experience, including…
The "Robert and Emma" drama in four acts performed by professional actors and recorded on audio CD
The "Robert and Emma" drama script
The "Four Levels of Happiness" DVD (runtime 30 min.)
"Life in a Flash" activity cards
Principles & Choices is published with the imprimatur of Archbishop of Seattle, J. Peter Sartain. Details…