Tested and Proven!
Some Exciting FACTS…
Our Principles & Choices high school curriculum is now in 93 high schools in 29 different states.
Over 187,000 students have learned the Principles & Choices curriculum. Nearly 100% of these students will go on to attend college and impact the culture in meaningful ways.
After studying part one of our three-part Principles & Choices series, the percentage of students who agreed with Church teaching on respect for unborn human life increased from 51% prior to taking our course, to 86% afterward. Those who chose "loving God and others" as the meaning of true happiness over "sex, money, power, and success" increased from 56% to 91%. And the percentage of students who agreed with Church teaching on assisted suicide rose from 54% to 66%.
Highlights from Principles & Choices Pre- and Post-Test Comparative Surveys
The following results reflect attitudinal changes among students after they completed only Book 1 of our 3-book pro-life philosophy curriculum for high schools, Principles & Choices.
Testing Date: Spring 2014
Sample Size: 231 high school students
Sample Field: One high school in California, and one high school in Nebraska
Respondent demographics: Ages 14-17; male-female ratio = 51%-49%
No one should tell you that a certain act is "good" or "evil" because morality is a matter of personal opinion.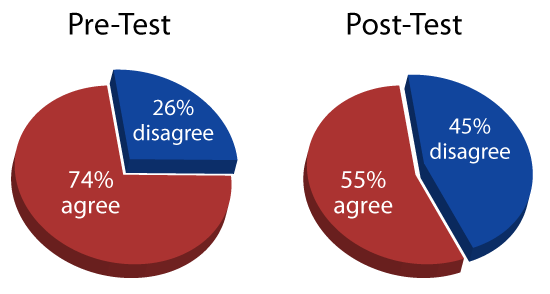 True happiness comes from Levels 1 and 2: sex, money, power, success, etc.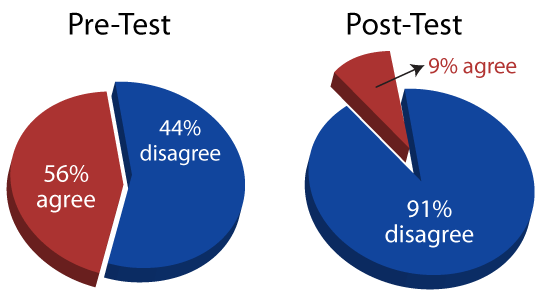 A fetus is a human being with the same right to life as everyone else.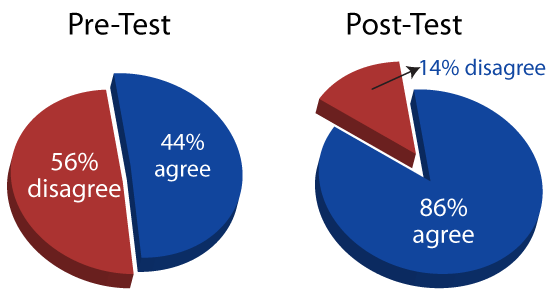 Assisted suicide should be against the law.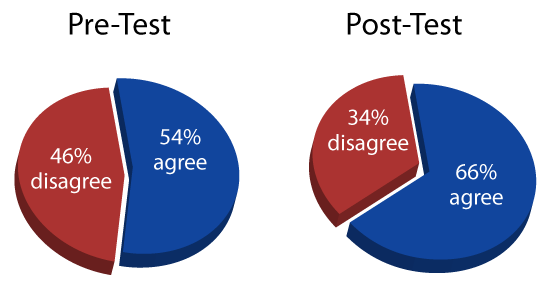 Qualitative Survey Responses
The following are anonymous, optional, open-ended assessment comments gathered from the post-tests of 93 students:
1. I learned through this unit that life is precious and no one should have the ability to take a life.
2. It made my beliefs stronger.
3. It strengthened my beliefs that abortion and euthanasia are always wrong.
4. It showed me even more reasons why pro-life is best.
5. It really strengthened my beliefs in what God teaches.
6. My beliefs were strengthened and gave me more of a reason to believe them.
7. I see all life is worth something.
8. It made me want to be more prayerful and want people to stop aborting their children.
9. I now believe that everyone has a right to live no matter what.
10. I am more against abortion.
11. This helped me to understand happiness and love more.
12. I make better choices now.
13. I learned to be more like Jesus.
14. I changed to believing that people should not have abortion.
15. I'm now against abortion no matter what.
16. It made me look at life differently.
17. I learned about being happy and what true happiness is.
18. I now believe that all life is worthy.
19. It made me believe that life is very important.
20. I learned how I can be happy and be closer to God.
21. My beliefs are stronger now because I have learned that there are different levels to happiness, success, etc.
22. I now think more about the relationship between me and God. I also think more about making a difference in other people's hearts.
23. When reading Principles & Choices, I realized how much I am against abortion and how much I want it to end.
24. I got more of an understanding in my belief.
25. The class provides information to people that don't know much about abortion, what it is, and how it should not be legal.
26. I learned that all life is special.
27. I now have a deeper understanding of what love is.
28. I saw how people need to stop using euthanasia.
29. I did learn more about how the Church saw abortion and euthanasia.
30. My thoughts were strengthened.
31. It has awakened me on how to love.
32. I learned more about the different levels of happiness and love.
33. I was able to reflect deeper on my relationship with God.
34. My point of view in life expanded and made me become more thankful for what I have been given.
35. It made me think and seek a deeper level of happiness and love, not for myself but for others.
36. I became more pro-life.
37. Made me realize abortion is very bad.
38. I learned more about what it means to be truly happy and how to achieve that happiness.
39. It made me look at things differently.
40. The book helped me understand more about happiness.
41. It was a good debate in class over morals and laws.
42. Excellent discussions.
43. It was awesome for new learners.
44. This book changed me in terms of speaking up.
45. I learned that sometimes principles are reasonable, and we need to follow them.
46. The materials helped me to understand the presence of God and to look at difficult topics from a new view.
47. There were well-formed arguments with a lot of reasons, and a great way to learn the principles of life.
48. There were many ideas that sparked new thoughts for me.
49. I learned that God is better than physical pleasures.
50. P&C was a great studying tool that provides knowledge.
51. Very good information to learn, so that we actually know the consequences of abortion or euthanasia.
52. Principles & Choices was a great book.
53. I could relate to it.
54. The book was easy to understand and made valid points.
55. It was believable and intriguing, and helped to strengthen my faith.
56. It did a good job of explaining why humans do the things they do.
57. Very well written for our age group.
58. I really like the online codes. It is fun to watch real world situations and videos applying to these problems.
59. The class went into great detail and explained things very well.
60. The book showed what the Church should be teaching.
61. It had some deep things that made me stop and think.
62. A great book.
63. It was well written and I enjoyed it.
64. It's very informational.
65. I thought the teachings were rational and just.
66. It gave me a new way to look at our religion.
67. I learned to be pro-life.
68. It gave me confidence.
69. It helped me learn more about God.
70. Should be required for every school to read.
71. There was so much information about happiness and love. It helped me learn better and know how to ultimately get to heaven.
72. I learned to respect life more.
73. It was very educational.
74. Lots of information in a small book.
75. Good depth of explanation.
76. I learned a lot.
77. It was a good book and taught the lessons of pro-life.
78. It taught me to have a greater love for all human life.
79. This was solid. It taught me how to love.
80. It made me more knowledgeable about social issues.
81. It showed me that just because my child might have a defect, I can still love my child.
82. I think this will convert a lot of people into being pro-life.
83. I think it showed a great perspective on people with disabilities.
84. It helped me to understand my faith better.
85. The book had really good, insightful information that will help us so much in future life.
86. I have come to respect human life more and be open to life's difficulties.
87. The class made me want to choose right over wrong.
88. The book changed my opinion on this issue.
89. I became more educated.
90. I learned a lot about God.
91. It made me believe that God only wants what's best for us.
92. It made me see that God is good.
93. The book backed up its ideas with proof.